SharePoint Online Advanced Site Owner
In this SharePoint course, learners will learn how to create, configure, and manage a SharePoint site so that your team or organization can collaborate effectively, manage the flow of digital information, meet governance and compliance needs, and create rich websites for your organization's needs.
This course is designed for existing Microsoft SharePoint site owners who will create and manage sites, add advanced pages and features, and manage records.
To ensure success in this course, learners need the skills to create SharePoint sites, lists, and libraries, and to apply SharePoint site security. You can obtain this level of skills and knowledge by completing SharePoint Online Site Owner with Forms and Flow.
Learners should also:
Be familiar with using personal computers

Have experience using a mouse and keyboard

Have basic end-user skills working with Windows

Know how to open and close applications

Know how to navigate basic file structures




Know how to manage files and folders

Have basic competence with Internet browsing

Have basic end-user skills with any of all of the Microsoft Office applications
301:

Configuring Site Settings



​
302:

Integrating External Data and Apps
304:

Managing Information Governance and Compliance

This module is for learners who know how to configure custom content types, columns, and document sets. In this module, learners will learn how to
configure auditing in SharePoint, activate and configure information management policies, configure retention labels and records management, and manage files with the content organizer.
305:

Designing and Creating a SharePoint Event Site
The following services are available to ensure your learners' success!

Upon request, the instructor will sign a non-disclosure agreement so learners can open working files during training.

Let us help you choose the right delivery option to optimize your time and money.

Upon request, the instructor will sign a non-disclosure agreement so learners can open working files during training.

In our Training Portal, learners access DJL Training laptops for live online hands-on training.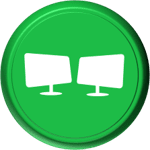 Dual Screens
For the best learning experience in our instructor-led training portal, we recommend learners use two screens for training.
On the

Remote Lab

screen, learners will complete training exercises under the watchful eye of their instructor.
On the

Virtual Classroom

screen, learners will see and hear their instructor as they follow the instructor's step-by-step directions. The virtual classroom screen can be a big screen in a conference room or a learner's second monitor.