Outlook 2019 ​Part 2
Outlook 2019 Part 2 builds upon the foundational knowledge presented in Outlook 2019 Part 1 and is intended for people who have a basic understanding of Microsoft® Windows® and want to know how to use Outlook's advanced features to manage their email communications, calendar events, contact information, search functions, and other communication tasks. In this course, learners will customize command sets, configure mail accounts, set global options, perform advanced searches, apply filters to intercept mail and control spam, create rules to automate many management tasks, work with calendars and contacts, manage tasks, protect data with archiving and data files, as well as share and delegate access to workspaces.

To ensure success in this course, learners should have completed Outlook 2019 Part 1 or have equivalent knowledge and experience.

201: Modifying Messages and Setting Global Options

For learners who wish to learn how to insert advanced characters and objects in email, modify message settings and options, configure global Outlook options, and customize the Outlook interface.
In this module, learners will use Outlook's advanced character and formatting options, configure advanced mail functions, modify global settings, and customize the application's interface to suit their work style and personal preferences.
202: Organizing Messages, Part 2



204: Automating Message Management

For learners who wish to learn how to create rules to performs actions automatically when specific conditions are met, including sending an out-of-office message or sending recurring emails to team members, and more.
In this module, learners will use the automatic replies feature, use the Rules Wizard to organize messages, and create and use Quick Steps.
205: Working with the Calendar, Part 2

For learners who wish to learn how to use calendar management tools including calendar groups, free/busy options, automatic meeting response options, multiple calendars. In this module, learners will set advanced calendar options, create and manage additional calendars, and manage meeting responses.
Related module: OUT19-107: Working with the Calendar, Part 1
206: Managing Contacts, Part 2
208: Delegating Your Outlook Workspace

For learners, i.e. managers, who wish to learn how to set delegate access permissions for their Outlook workspace to other people, i.e., administrative support personnel.
In this module, learners will learn how to set folder sharing permissions, and enable others to send emails and create and respond to meeting requests on their behalf.
The following services are available to ensure your learners' success!

Upon request, the instructor will sign a non-disclosure agreement so learners can open working files during training.

Let us help you choose the right delivery option to optimize your time and money.

In our Training Portal, learners access DJL Training laptops for live online hands-on training.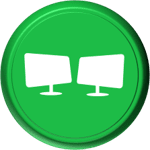 Dual Screens
For the best learning experience in our instructor-led training portal, we recommend learners use two screens for training.
On the

Remote Lab

screen, learners will complete training exercises under the watchful eye of their instructor.
On the

Virtual Classroom

screen, learners will see and hear their instructor as they follow the instructor's step-by-step directions. The virtual classroom screen can be a big screen in a conference room or a learner's second monitor.