PowerPoint 2019 ​Part 2
PowerPoint 2019 Part 2 builds upon the knowledge presented in Part 1 and helps start learners down the road to creating advanced presentations that can help deepen their understanding of PowerPoint. This course will cover preparing a presentation for final delivery, adding multimedia to presentations, using tables in presentations, and customizing themes and slide masters.

201: Adding Charts to a Presentation

Embedded Charts

Editing Chart Data

Formatting Charts

Modifying Charts

Changing Chart Style and Color Scheme
Working with External Excel Documents
Only Data Is Linked

Linking Excel Charts

Paste Options

Effects of Linking

Editing the Source (Linked) Document

Maintaining Healthy Links
Creating SmartArt Diagrams
Inserting and Formatting SmartArt Graphics

Formatting SmartArt

Adding Elements to SmartArt
202:

Using Tables in Presentations

Entering Data in Tables

Navigating Table Cells

Resizing and Moving Tables

Aligning a Table

Formatting Data in Cells

Aligning and Formatting Cell Entries

Adjusting Column Widths and Row Heights

Adding and Deleting Rows and Columns

Adding Non-Text Data to Cells

Merging and Splitting Cells
Table Styles

Modifying Table Styles
203:

Collaborating with Others Online

Sharing via Email

Selecting an Email Program

The Send Using Email Pane

Opening an Attached Presentation
Reading Comments

Setting the Comment Name

Attaching Comments

Editing and Deleting Comments

Writing Effective Comments
Comparing and Merging Presentations
Viewing Multiple Presentations

Cleaning Up
Using OneDrive and Office Online
Storing Files on OneDrive

Editing Files with Office Online

Sharing Files with OneDrive

Moving Files and Setting Folder Permissions

Accessing Shared Files
204: Readying a Presentation for Final Delivery

Finalizing a Presentation
Creating Speaker Notes

Editing Document Properties
Three Useful Options

Using Hyperlinks in Presentations

Inserting Hyperlinks

Creating Hyperlinks for Slide Navigation

Repairing and Removing Hyperlinks
Using the Slide Show Toolbar
Annotating with Pen Tools

Slide Zoom
Transporting the Presentation
How Package for CD Works

Font Embedding

Displaying Linked Content

Copying a Presentation to a CD or Folder

Viewing a Packaged Presentation from a USB Drive
Connecting to an External Display
Connection Ports

Configuring Your Computer
The following services are available to ensure your learners' success!

Upon request, the instructor will sign a non-disclosure agreement so learners can open working files during training.

Let us help you choose the right delivery option to optimize your time and money.

In our Training Portal, learners access DJL Training laptops for live online hands-on training.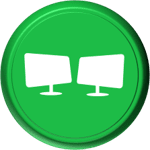 Dual Screens
For the best learning experience in our instructor-led training portal, we recommend learners use two screens for training.
On the

Remote Lab

screen, learners will complete training exercises under the watchful eye of their instructor.
On the

Virtual Classroom

screen, learners will see and hear their instructor as they follow the instructor's step-by-step directions. The virtual classroom screen can be a big screen in a conference room or a learner's second monitor.