201:

Designing Advanced Plans and Diagrams
202:

Enhancing The Look Of Drawings
204:

Connecting Drawings to External Data

For learners who know how to
build advanced plans, and build advanced diagrams [101].
In this module learners will
make an organization chart from an excel spreadsheet, generate a pivot diagram from an excel spreadsheet, create a Gantt chart from a project file, create a timeline from a project file, and connect a map to an access database.
205:

Leveraging Development Tools
The following services are available to ensure your learners' success!

Upon request, the instructor will sign a non-disclosure agreement so learners can open working files during training.

Let us help you choose the right delivery option to optimize your time and money.

In our Training Portal, learners access DJL Training laptops for live online hands-on training.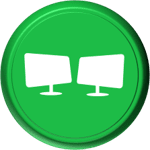 Dual Screens
For the best learning experience in our instructor-led training portal, we recommend learners use two screens for training.
On the

Remote Lab

screen, learners will complete training exercises under the watchful eye of their instructor.
On the

Virtual Classroom

screen, learners will see and hear their instructor as they follow the instructor's step-by-step directions. The virtual classroom screen can be a big screen in a conference room or a learner's second monitor.