Word 2019 ​Part 1
Word 2019 Part 1 aims to provide learners with a foundation for Microsoft Word knowledge and skills, upon which they can build to eventually become an expert in Microsoft Word. In this course, learners will learn how to create and edit business documents, create a document in a table, create a promotional brochure, create a business report, create footnotes and endnotes, and work with citations, bibliography, captions and a table of figures. To ensure success in this course, learners should be familiar with using personal computers and should have experience using a mouse and keyboard.
Learners should also be comfortable working in Windows 7 (or later), be able to open and close applications, navigate basic file structures, and manage files and folders.
101: Creating and Editing Business Letters

For learners who wish to learn how to create business letters using proper formatting. In this module, learners will navigate in a document, create and save documents. enter and edit text. create numbered and bulleted lists. save documents as different file types. create envelopes. use document views. and print documents.
102: Creating a Document in a Table
103: Creating a Promotional Brochure

For learners who wish to learn how to add graphic elements, such as WordArt and SmartArt graphics to a brochure, and choose page setup features. In this module, learners will create an eye-catching brochure, insert shapes in a document, add pictures, text boxes, and WordArt to a document, choose page setup features, communicate information with SmartArt, and format the page background.
104: Creating a Simple Report



105A: Footnotes, Endnotes, Citations and Bibliography
The following services are available to ensure your learners' success!

Upon request, the instructor will sign a non-disclosure agreement so learners can open working files during training.

Let us help you choose the right delivery option to optimize your time and money.

In our Training Portal, learners access DJL Training laptops for live online hands-on training.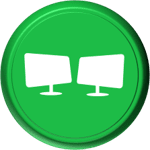 Dual Screens
For the best learning experience in our instructor-led training portal, we recommend learners use two screens for training.
On the

Remote Lab

screen, learners will complete training exercises under the watchful eye of their instructor.
On the

Virtual Classroom

screen, learners will see and hear their instructor as they follow the instructor's step-by-step directions. The virtual classroom screen can be a big screen in a conference room or a learner's second monitor.