Word 2019 ​Part 3
Word 2019 Part 3 is intended for learners who are experienced Word 2019 users and have a desire or need to advance their skills in working with some of the more advanced Microsoft Word features. In this course, learners will learn how to use the Track Changes feature, share and secure content, personalize Microsoft Word, record and edit macros, create a mail merge from an Excel file, and integrate Word with PowerPoint and the Web.

To ensure success in this course, learners should have completed Part 1 or have the equivalent knowledge and experience. Part 2 is helpful.

301: Tracking Changes to a Document

For learners who wish to learn how to track changes, a feature that allows for collaborative editing of a document. This module requires learners are able to store exercise files on a shared network drive or OneDrive. In this module, learners will electronically distribute copies of a document, track changes that are made to the document, review the changes, and accept or reject the changes.
302: Sharing and Securing Content




For learners who wish to learn how to work in Backstage view (the File tab) to control document access and content, and security and guard personal information. In this module, learners will use file compatibility features, check documents with the document inspector, restrict formatting and editing in a document, mark a document as final, and secure documents with passwords and digital signatures.
304: Recording and Editing Macros



305: Creating a Mail Merge From an Excel File
306: Integrating Word with PowerPoint and the Web
The following services are available to ensure your learners' success!

Upon request, the instructor will sign a non-disclosure agreement so learners can open working files during training.

Let us help you choose the right delivery option to optimize your time and money.

In our Training Portal, learners access DJL Training laptops for live online hands-on training.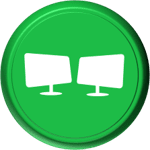 Dual Screens
For the best learning experience in our instructor-led training portal, we recommend learners use two screens for training.
On the

Remote Lab

screen, learners will complete training exercises under the watchful eye of their instructor.
On the

Virtual Classroom

screen, learners will see and hear their instructor as they follow the instructor's step-by-step directions. The virtual classroom screen can be a big screen in a conference room or a learner's second monitor.